Groundwater exploitation in Awka (Anambra – Nigeria) and environs: Prospects, and challenges while drilling and its mitigation measures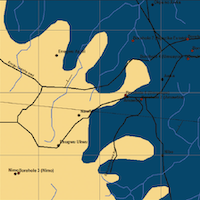 Submitted: 29 July 2021
Accepted: 23 November 2021
Published:
23 December 2021
Publisher's note
All claims expressed in this article are solely those of the authors and do not necessarily represent those of their affiliated organizations, or those of the publisher, the editors and the reviewers. Any product that may be evaluated in this article or claim that may be made by its manufacturer is not guaranteed or endorsed by the publisher.
Groundwater exploitation (borehole drilling) was carried out around Awka and environs in Anambra State, Southeastern Nigeria, to understand the underlying rock units encountered while drilling, differentiate boreholes with confined aquifers from those with unconfined aquifers, delineate the probable aquiferous zones from the borehole data, evaluate the challenges encountered while drilling (both geologic and technical), and identify mitigation measures employed to address these challenges. Detailed geologic log information of the boreholes was produced to illustrate the rock units encountered while drilling. Four rock units were identified, namely: shale, sandstone, clay, and gravel. These rock units were exposed within the Imo Formation and the Nanka Formation that underlie the study area. Results from the geologic log information of the boreholes indicate that the water table within the study area ranges from 11.2 m to 56.5 m from the soil surface, and the probable aquiferous zones vary from 6.8 m to 23.3 m in thickness. A detailed look at the lithologic logs of the boreholes show that 50% of the drilled boreholes possess confined aquifers while the remaining 50% have unconfined aquifers. A careful appraisal of the challenges encountered, which are mainly geologic, is strictly attributed to the geologic formation of the study area. Other technical challenges have been derived from mechanical faults developed during drilling.
Anyanwu, I. E. ., & Oguntade, S. S. . (2021). Groundwater exploitation in Awka (Anambra – Nigeria) and environs: Prospects, and challenges while drilling and its mitigation measures. Acque Sotterranee - Italian Journal of Groundwater, 10(4), 27–33. https://doi.org/10.7343/as-2021-528
Copyright (c) 2021 the Author(s)
This work is licensed under a Creative Commons Attribution-NonCommercial 4.0 International License.
PAGEPress has chosen to apply the Creative Commons Attribution NonCommercial 4.0 International License (CC BY-NC 4.0) to all manuscripts to be published.