Groundwater in the Perthus Tunnel: feedback after excavation
Antonio Dematteis | antdematteis65@gmail.com

Lombardi Engineering Limited, Glebe, NSW, Australia.

Riccardo Torri

EG Team, Torino, Italy.

Bertrand Chereau

Eiffage Construction, France.

Michel Ducrot

Eiffage Construction, France.
Abstract
This work presents the experiences gained during the construction of the Perthus high-speed railway tunnel (8.4 km long), as regards water inflow management, analysis of the impact on surface-waters and groundwater, monitoring of piezometers and water quality control, soil injections. The excavation met granodiorites, schists, diorites, gneisses, black schists and coarse river deposits (pebbles and blocks) near the north portal. Some important tectonic structures, and associated groundwater flow, were also crossed. Finally, a geothermal study on the hydrothermal springs Le Boulou, which were not impacted, is presented.
Downloads
Download data is not yet available.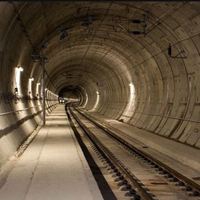 Info
Section
AQUA MUNDI (republished)
Keywords:
groundwater, tunnel excavation, monitoring, thermal springs, drawdown hazard
Statistics
Abstract views:

358



PDF:

36
How to Cite
Dematteis, A., Torri, R., Chereau, B., & Ducrot, M. (2021). Groundwater in the Perthus Tunnel: feedback after excavation. Acque Sotterranee - Italian Journal of Groundwater, 10(2), 65-71. https://doi.org/10.7343/as-2021-518
Copyright (c) 2021 the Author(s)
This work is licensed under a Creative Commons Attribution-NonCommercial 4.0 International License.